Growing Up in the White House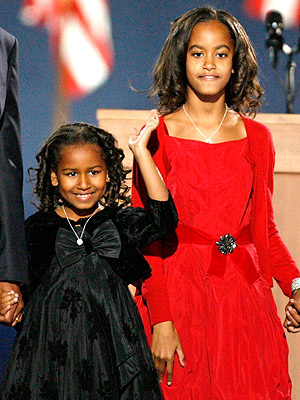 Jim Bourg/Reuters/Landov
Last night, Barack Obama was elected as the 44th president of the United States. Regardless of which candidate you voted for, you must admit it will be fun to watch Barack's adorable daughters Malia, 10, and Sasha, 7, grow up in the White House. In fact, there hasn't been a child of less than 10 years old living in the WhiteHouse since Amy Carter's arrival at age 9, back in 1977.
Malia and Sasha have tagged along with their father on the campaign trail these past two years, and for their dedication, Barack announced last night that the two would be bringing a new friend with them when they move into 1600 Pennsylvania Avenue on January 20th! He told the crowd gathered in Chicago's Grant Park,
"Sasha and Malia, you have earned the puppy that's coming with us to the White House."
Interested in what White House life is like for children? Take a look back at other famous White House kids — from Chelsea and John Jr. to Barbara and Jenna — in PEOPLE's "Growing Up in the White House" gallery.