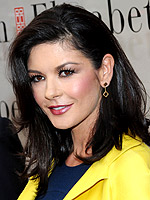 George Napolitano/FilmMagic
Although she considers herself "pretty easygoing," even Catherine Zeta Jones has her limits. When the 39-year-old actress has reached hers, there isn't much guesswork involved for her two children with husband Michael Douglas. "People can tell a lot from my tone of voice," she explains. "My kids know when I raise my finger or do 'the eyes' that I mean business." Catherine adds,
"I don't put up with much. I'm kind to everybody. But if you cross me, you know."
The couple, who were married in 2000, are parents to Dylan Michael, 8, and Carys, 5 ½.
Source: Monsters and Critics