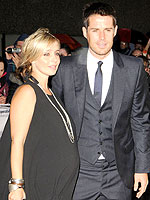 Pacific Coast News
What a difference a pregnancy makes! Louise Redknapp writes in a new column for The Mirror that her two pregnancies — first, with 4-year-old Charley William, and now with another son due this month — have been a case study in contrasts, most notably with her approach to work. "When I had Charley I just focused on having a baby," the 34-year-old singer explains. "[With this baby] I've worked right up to the final weeks of my pregnancy and I've loved every minute of it."
"Some people think I'm mad working right up to the end of my pregnancy. But while the baby and I are well, I don't see why not."
While she's been "tucked away" in a recording studio focusing on her music, Louise did venture out recently to accept FHM's award for 'Sexiest Woman of the Decade.' The ironic timing was not lost on Louise, who wrote that "to be collecting it eight months' pregnant" made her "giggle." In any event, Louise takes issue with the term "working mom," because it implies that stay-at-home moms are somehow not working, too. "Believe me, I have friends who've taken time out from their careers and become full-time mums…they're always on the go," she notes.
"After Charley was born, I knew I wanted to continue working and had to learn how to juggle being a mother and a wife with my career. The most challenging thing has been maintaining that balance between work and family life."
Click 'more' to learn the name Charley has chosen for his new sibling!
Louise — married since 1998 to footballer Jamie Redknapp — has been able to meet that challenge because of the "support team" her family has in place. "I'm very lucky and I do get embarrassed when people say, 'I don't know how you do it,'" she wrote. "I point to my mum and say: 'That's how.'"
"She's always there by my side. When Charley was little and I had to work long hours, Mum was always there."
Even with the help, Louise admits that the "constant flow of work projects" led her to question whether it was "the right time to try for a new baby." While the couple "didn't want to rush into it," they struggled for years to conceive Charley and assumed they would run into trouble with any subsequent pregnancies. To their delight, baby-on-the-way was conceived right away — but Louise said she was afraid at first to believe in her own good fortune. "When I got pregnant after only four weeks, I just kept thinking this can't be true –- this is all too smooth," she wrote. "I prepared myself for the worst, which meant I couldn't let myself enjoy it at first." Once the first trimester came and went, however, Louise said she was finally able to "relax and enjoy the experience."
"The fact that the decision to have another baby, then getting pregnant happened so fast, makes me know that this is the right time. It was meant to be."
With her due date looming large, Louise said she can feel the "hormones kicking in" and has been busy nesting, going so far as to put "nearly everything" she owns into big black trash bags. "I think I was a bit overzealous," she wrote. While Jamie has "been so relaxed" about baby-on-the-way, the same cannot be said for Charley, who even has a name picked out for his new little brother. "Charley rushed home from school and declared he'd like to call the baby Roger," Louise wrote. "No offense to Rogers but Roger Redknapp?..It just doesn't sound quite right." She added,
"Charley is sooo excited…I am as excited for Charley as I am for Jamie and me."
Source: The Mirror