You Said It: Five Great Comments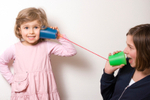 istockphoto.com/wojciech_gajda
CBB was once again buzzing with commentary this week, on everythingfrom dating rules and parental jokes to baby pics and sibling rivalry. You all had a lot to say, and we lovedreading every word! Here's a look at five great comments from the past week:
Posted by Lily on Gwen Stefani Introduces Zuma Nesta Rock:
This picture is by far one of the most beautiful I've ever seen. Shejust looks so peaceful and serene. And seeing him makes me want to haveanother one. He is just too cute for words!
Posted by Emily on Gavin Rossdale Can't Blame Kingston for Wanting More Time With Mom:
I think it's great that Gavin is talking about the realities of being aparent to two children. A lot of celebrities go on and on about howgreat it is to be a parent and they oftentimes make it seem like it'snot a LOT of work and it's all paradise. So I applaud him for beinghonest and sharing the difficulties their family is having adjusting totwo children.
Click "More" for three additional comments.
Posted by Sweet Diva on Coolio Lays Down the Law for Dating His Daughters:
When you still live with your parents, you have some respect forthem. Even when I'm just visiting my parents or my boyfriend's parents,we keep the PDA to a respectful minimum. And we are in our 30s!
Coolio's message says: Respect your bodies and respect this home.
Let's face facts- it more likely that woman will be taken advantageof physically than a man. He wouldn't be doing his job as a parent ifhe didn't advise them to be cautious. And for all we know, Coolio hasinstructed his sons to act respectively towards themselves and thewomen they are seeing.
Posted by Jennifer on Tina Fey Says Alice is 'Completely Confused' By Sarah Palin Impersonation:
Funny stories, funny lady, funny mommy! I relate to the politicalstories…My husband is a journalist who travels with Barack Obama. Our2 1/2 year old tells everybody: 'daddy on the plane with la-lockobama'–she thinks the name is hilarious too! What's even more funny ishow it makes my conservative mother-in-law cringe, she told me I havebrainwashed her!
Posted by Heather on Jake Gyllenhaal and Deacon Phillippe Get a Grip:
Hopefully this picture doesn't represent a broken home as much as itrepresents a new, extended family. Obviously Reese trusts Jake enoughto leave him to care for her children and that's not a decision amother makes spur-of-the-moment. And from all the pictures I see Deaconand Ava in – whether they are with Reese, Ryan or Jake – they seemhappy and loved.
Send us your favorite comments at CBBTips@gmail.com.