Poppy Montgomery Learning About Priorities, Patience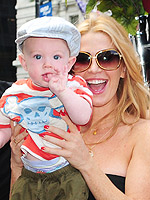 Albert Michael/StarTraks
After welcoming son Jackson Phillip Deveraux last December, Poppy Montgomery — like most moms — shares that her priorities have changed completely since the arrival of her little man. "What's really good is everything that seemed important before, like having a bad hair day, doesn't seem important anymore," explains the Without a Trace star. "Oh my God, I'm just in love with [my son]."
Now that Jackson has reached the age of 10 months, mom could use some patience too. Now that her baby boy is big into repetition, Poppy, 36, admits that doing something over and over again can get a bit tiring. Luckily, boyfriend Adam Kaufman is happy to give Poppy a break.
"He is so hands-on and patient. You have to be with kids, you can't get frustrated because they want to do something 55 times. You think it's funny once; they think it's funny 100 times. [Adam]'s really great that way."
Source: PEOPLE