Billy Joel 'Very, Very' Proud of Daughter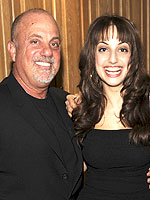 Kevin Mazur/WireImage
Many fans — and parents, in particular — have a particular attachment to Billy Joel's hit song "Lullaby." Although he wrote it for his daughter Alexa Ray, 22, more than a decade ago it still packs an emotional punch for Billy, as well. "I can't think about the lyrics when I'm [performing]," Billy, 59, says. "I can't."
"When I wrote the song, my marriage was coming apart. And I was worried. 'When am I going to see my kid?' I wrote the song for her to let her know 'I will never leave you. I will always be there."
Now that his daughter is well on her way to a career as a singer, herself, Billy is understandably pleased. He tells the Journal Gazette that he sees Alexa on stage and he thinks "'That's my baby. That's my kid'…I get very, very proud." Like any parent, however, he admits to being "a little bit nervous" beforehand — but says his daughter always comes through.
"She just steps up to the plate and just knocks it out of the –- And I just start laughing: 'Of course. Of course.'"
Alexa is Billy's daughter with ex-wife Christie Brinkley.
Source: Journal Gazette