Angela Kinsey is Back on Set with Baby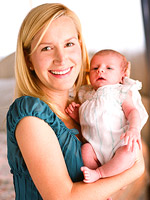 Elizabeth Messina for use on CBB
Back on set to film the fifth season of The Office, Angela Kinsey opened up her trailer for a quick tour as she sheepishly warns her audience that "it used to be really neat," but "now with a baby, [it's] a little more cluttered!" With a custom-made trailer just for the new mom — who welcomed daughter Isabel Ruby in May — Angela is thrilled that she is able to bring the baby to work. "Basically they just took two trailers and they opened a little door so I can go straight to Isabel's side," explains Angela.
Showing off her countless photos of her 5-month old, the actress admits that at first she was "torn" on whether or not to show pictures of her daughter, but in the end decided it was almost impossible not to! "I can't help it, I have pictures of her everywhere," gushes Angela. In addition to the pictures, the trailer is also filled with diapers — "very exciting stuff" — a changing table, videos of Sesame Street, and her favorite product sent to her by her sister: Boudreaux's Butt Paste.
Angela has her mom to thank for the baby-friendly interior design of the trailer, sharing that although the family lives in California, the proud grandmother wants Isabel to know her family history. Holding up a pillow with the word "Howdy" outlined in jewels, the actress explains "my mom is really insisting that Isabel know her Texas heritage." While the pillow could be used to take a short nap in between scenes, Angela is a bit puzzled by her mom's other gift: a decorative wreath.
"Only a mom from Texas would make a giant door knocker. It's adorable, she made it all by herself, it's very sweet. I don't know what it's purpose is Mom, I really don't. But I hung it here so Isabel can see it and grab at it. It's beautiful Mom, it's beautiful. Do you guys know what this thing is for? It's just decoration, right?…Right?"
Click 'More' to read about why Angela's favorite topic is boobs, and to view the video!
Despite all of the fun distractions in the trailer, these days,Angela's mind is on one thing: breastfeeding. Checking off heressential equipment, the new mom is able to nurse and pump in betweentakes. "Breast pump? Check. Breast pump attachments? Check. Breast pumptube? Check," she laughs. Admitting that nursing has lately taken overher life, Angela jokes that she was even caught in a compromising posein a candid picture taken of the cast. After a set photographer snappeda shot that showed Angela clearly enthralled in a nursing story, the37-year-old muses that she "needs to get some new experiences because Ithink I'm really making everyone crazy with my breast pump stories!" Infact, Angela reveals that she is known around the set for constantlydivulging stories about her nursing moments.
"I'vebeen teased this season that I talk about my boobs a lot, but whenyou're pumping as much as I do, come on! Ladies, you know what I'mtalking about. Fellas, not so much…I hope."
The Office airs Thursday nights at 9 p.m. on NBC. Isabel is Angela's daughter with husband Warren Lieberstein.
Source: NBC