Tina Fey: Alice's Backpack is Almost Bigger Than She Is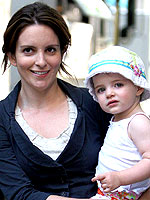 Luis Guerra/Ramey
For most kids, the start of school comes with a whole lot of perks: new friends, fun snacks, and getting to pick out their very first backpack. According to the creator of 30 Rock, Tina Fey, her 3-year-old daughter Alice Zenobia is no different from any other toddler her age and has been — proudly — sporting her backpack every opportunity she gets. Although Tina — who has turned her dressing room into a makeshift playroom for her daughter — jokes that Alice's bag "takes up the entire size of her torso," the 38-year-old mom can't help but think "it's pretty cute." However, like most preschoolers, the backpack is more for show and the fact that there is usually not much to carry doesn't seem to bother Alice in the least!
"She's really proud of it. If you say to her, 'What's in your backpack?' She's really cocky and says, 'Nothing.' There's nothing in it. She just carries it."
Alice is Tina's daughter with husband, music producer Jeff Richmond. Missed Tina's appearance on Conan earlier this week? Catch up here!
Source: USA Today