Nicole Kidman Calls Childbirth an 'Extraordinary Thing'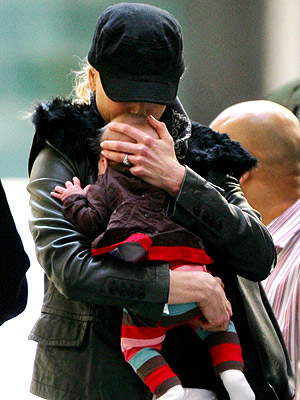 Flynet
For many years, Nicole Kidman suspected that she'd never get to experience childbirth. Now that she's welcomed daughter Sunday Rose, 3 ½-months, the 41-year-old actress says she feels that — as a woman — "giving birth to a child … is what we're born to do." She tells Parade,
"I don't mean that to sound sexist, because many women don't get to do it, and I thought I was one of them. But at the same time, if you are given that gift, it's an extraordinary thing."
Nicole became emotional when talking about the "primal" need she has to keep her daughter "very protected." That's why she and husband Keith Urban have thus far decided to forego an introductory photoshoot with Sunday. "People say, 'Oh, it would be so much easier if you'd just let them get a photo of her,'" Nicole said. "And I can't. I'm like, 'I don't want to. I want her to stay out of that.'" Although her stance may change "as [Sunday] gets bigger," for now Nicole says she is "still keeping her in a bubble."
"I'm raw and emotional. I cry even thinking of her. But they are tears of joy."
Click 'more' to read about how Nicole approaches parenthood differently as an older mom.
As she has stated previously, despite the overwhelming joy she feels at having become a mom to Sunday, Nicole views motherhood at 41 as "very bittersweet." Already a parent to Isabella Jane, 15, and Connor Antony, 13, with ex-husband Tom Cruise, Nicole said that her relationship with death "used to be far more ambivalent" — now, it is "very much about staying in the world."
"I think, 'I want to see her 21st birthday, and I want to see her get married'…Strangely enough, I think when you have children at 25, you still have that 'what will be, will be' attitude. It's such a different way of parenting. Bella and Connor were very free and easy, probably because they had parents who were very young and jumping around the world and pretty easygoing."
The timing of Sunday's birth has proven to be powerful for Nicole, who notes that as Bella and Connor enter their formative years she and Tom have "taken them … almost into their adult life." To begin motherhood anew, then, has given her a new perspective. "To have a birth child that I have to take into adult life, give her her wings, it's a big purpose," Nicole explains. "I know my place." While Sunday resembles Keith, the Oscar winning actress — who said she is "totally devoted" to her daughter — isn't complaining.
"I'm glad, because when [Keith] goes on tour, I say to him that he leaves a little bit of him with me."
Source: Parade