Mike McCarthy Not Sleeping for the Right Reason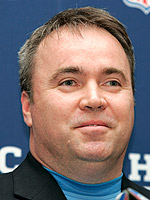 Getty
Green Bay Packers coach Mike McCarthy is used to being kept awake at night for the wrong reasons — like bad calls during games — but his lack of sleep can now be attributed to a "right reason" — one-week-old daughter Gabrielle Kathleen. Following the birth of Gabrielle, Mike has new respect for his wife Jessica.
"You talk about toughness of your football team, there's nothing that compares to what Jessica and what women go through to have a child. It was just a remarkable miracle and I enjoyed every second of it."
Gabrielle is the second child for Mike. He is also dad to daughter Alexandra, 17, from a previous relationship.
Source: WBAY