Melissa Etheridge Shares Her 'Family Glee'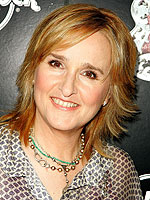 Jason LaVeris/FilmMagic
"Wow, that's lame." That's the opinion of 9-year-old Beckett Cypher, son of songstress Melissa Etheridge and her ex-partner Julie Cypher, with regard to Proposition 8 — a ballot initiative in the state of California which threatens to eliminate the right of same-sex couples to marry. In a commentary written for The Daily Beast, Melissa, 47, recalls the "long strange trip" she took in becoming mom to Beckett, as well as mother to his 11-year-old sister Bailey Jean. Navigating a "trail of red tape" just to obtain health insurance for her kids, or to ensure that she could visit them in a hospital in the event of an emergency, Melissa's efforts were hampered at every turn; At the time, California law prohibited social workers from approving adoptions by same sex couples, Melissa notes, and it was only when she would appeal that decision before a judge that her adoptions became legal.
"I give thanks to these great people who truly believe in equal rights and risked so much for so many families."
When the California Supreme Court earlier this year declared same sex marriage legal, it was cause for celebration in the home Melissa now shares with wife Tammy Lynn, with whom she has 2-year-old twins Miller Steven and Johnnie Rose. "We told our children about it and all danced around the room in family glee," Melissa writes. "We knew the only way our rights could be taken away was through a ballot measure and a constitutional amendment revoking the rights of same sex couples…And now here it is." As election day nears, Melissa is confident in the outcome, and says she already knows how she'll deliver the news.
"I will be waking up with my children on November 5th and I will be fixing them breakfast as I usually do. I look forward to telling them that prop 8 was defeated. I am sure my son will say, 'Good, that was lame.' Yes, lame indeed."
Source: The Daily Beast