Marion Jones Hopes To Make Up For Absence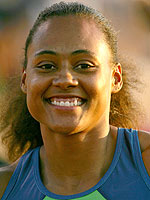 Matthew Stockman/Getty
In an emotional appearance on Wednesday's The Oprah Winfrey Show, Marion Jones gave her first interview since completing a six month sentence for lying to federal authorities in connection with a steroid investigation. The 33-year-old former Olympic champion — who saw her five gold medals from the 2000 games stripped as a result of her conviction — read aloud a letter she'd written from prison to her two children, Monty, 5, and Amir, 15 months. "Mommy is far away from both of you, because I made a mistake in life, and because of it, I have to pay a horrible price, which is being temporarily separated from you and your daddy," Marion wrote.
"My mistake cost me Monty and Amir for six months of our lives. These are six months I can never get back. Ever. I love you both more than the breath I take. God please put your arms over them and protect them."
Before starting her sentence, Marion sent the kids off to Barbados with family members to make her departure less traumatic. "I knew in my heart that they were going to a loving environment, but knowing that I wasn't going to be able to see them, and hold them, was one of the most difficult things I ever had to do," she said. When the boys' birthdays came and went — Amir's first, and Monty's fifth –and she remained incarcerated, the pain was palpable. As Marion tearfully told Oprah,
"There are people that say, 'She did the crime, she has to do the time…She has to pay the consequences.' I understand all that, and I did that. But still, they're kids. They didn't commit a crime, and I can never get back Amir's first birthday. I can never get back Monty's fifth birthday. But I do hope to make up for it."
After her release in September, Marion said she just had one thing on her mind: reconnecting with her kids, and husband Obadele Thompson. Despite her Olympic success and the scandal that followed, she now considers herself a full-time mom and a full-time wife — nothing more, and nothing less. "In comparison, I like this job — if I can call it that — a lot more," Marion said.
Source: The Oprah Winfrey Show