Jenny McCarthy Conserves Her Energy For Evan and Others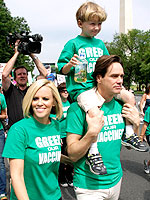 Yuri Gripas/Reuters/Landov
The good times continue for Jim Carrey and Evan Joseph Asher, the 6-year-old son of Jenny McCarthy, turning 36 on Saturday. In a new interview with OK!, Jenny says that her son — like many boys — is into "dinosaurs and flying dragons" and, generally, "anything that can destroy people." Including, it seems, Darth Vader. Recently, Evan came out of his bedroom dressed as Darth and began to recite some of the dialogue from the Star Wars film; Jim, an avid Star Wars fan himself, "completely picked up the dialogue and they had an entire scene together," according to Jenny.
"It was the most surprising, awesome thing a mom could ever witness."
Regardless, Jenny reiterated that she is most definitely done having kids. "I feel like my energy is best served continuing Evan's progress and helping thousands of other moms who need direction to get their kids better," she said. When that energy is running low, Jenny does try to carve out some time for herself — even if it is hanging out in her hotel room watching Judge Judy!
"I always make sure I do something for myself even if it's taking a bath twice a week with no one bothering me. But in terms of balance and being a mom there's really no such thing. It's always lopsided."
Evan is Jenny's son with ex-husband John Asher. Her new book, Mother Warriors: A Nation of Parents Healing Autism Against All Odds, is on shelves now.
Source: OK!