Christina Aguilera and Max Step Out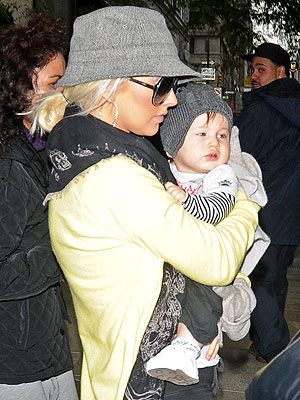 Arnaldo Magnani/Getty
Both keeping toasty in gray hats, Christina Aguilera and 9-month-old son Max Liron were spotting leaving their midtown hotel in NYC on Wednesday evening.
Married to Jordan Bratman since 2005, the singer says she's "Inlove with her life," but shares that parting ways with Max can be hard."Mama has to work, Mama has to do a job. But I think it's important toshare what I love — what makes me me — with my son. So, I change diapers and I breastfeed him and I playwith him and then I work. I want to show Max everything about me."
Christina's newest album Keeps Gettin' Better — A Decade of Hits comes out November 11th and will be available only at Target. You can watch the video for the single, in which Christina moves through multiple looks — as she's done throughout her career — at iLike.com.