Traci Lords' Breasts Are Now for Son, Not Films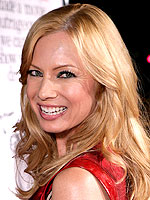 Todd Williamson/WireImage
Traci Lords was prepared to turn down director Kevin Smith when he asked her to take part in the new film Zack and Miri Make a Porno, but after talking to him, the former adult star decided to go for it. However, there was one stipulation — no nudity. Traci, 40, had just given birth to now 1-year-old son Joseph Gunnar and made sure that Kevin knew her breasts belonged to her baby.
"I also told Kevin, 'Listen, I'm lactating and you're not getting my boobs. Not going to happen.' Kevin said, 'We can do without them.'"
Even though she loves acting, motherhood is what brings Traci the greatest joy, and she is the first to admit that "my son is the love of my life." Parenthood was something that took Traci and husband Jeff Lee by surprise though. "My husband and I went to Vegas, and what happens in Vegas doesn't stay in Vegas," shared Traci, adding that "my breasts kept growing and growing … I had Pam Anderson's rack. … Then we realized I was pregnant." Having learned that she was expecting, Traci knew immediately that her ambition in life was to "raise somebody who is good," she shares.
Zach and Miri Make a Porno will open in theaters on Friday.
Source: Chicago Sun Times