Tina Fey Says Alice is 'Completely Confused' By Sarah Palin Impersonation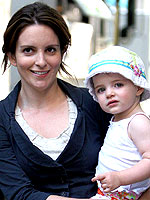 Luis Guerra/Ramey
If you're one of the millions of Saturday Night Live viewers who've been transfixed by Tina Fey's uncanny portrayal of Governor Sarah Palin during recent weeks, you're not alone. Tina's 3-year-old daughter Alice Zenobia is "completely confused" by mom's striking resemblance to the Republican vice presidential candidate, Tina says. At no time was that confusion more evident than during Governor Palin's Oct. 18 appearance on SNL; Alice was on the set that day, and while Tina was holding her the two were watching the governor on a monitor. "Alice said 'I see you up there!" the 38-year-old 30 Rock actress recalled during a Wednesday appearance on Late Night with Conan O'Brien. "I was like, 'No, I'm here with you." Ever since, Tina says she has been "testing" her daughter with the newspaper.
"I'll say, 'Who's that?' And she'll say 'Sarah Palin.' And then I'll [show a picture of myself and] say, 'Who's that?' She'll go 'Sarah Palin.' I'm like, 'No, that's mommy!' She looked at me [and scowled], she was really mad when I corrected her."
While there's no mistaking Senator Barack Obama for mom, Alice is still game for a civics lesson. Tina showed her daughter a picture of the Democratic presidential candidate, and said "Look at this guy, his name is Barack Obama." Laughter ensued. "She thought that was the funniest thing she'd ever heard," Tina said. "She goes, 'That's crazy!" When she then told Alice that Senator Obama's middle name is Hussein, Tina joked that her daughter became "very concerned." All joking aside, while there was some initial awkwardness during their first face-to-face meeting, Tina said that Governor Palin was "very nice" — so nice, in fact, that she offered up her 17-year-old daughter Bristol Palin to help out with Alice. Recalls Tina,
"Alice was with me in the early part of the evening, and I didn't have a babysitter but a friend of mine did volunteer to babysit. Then later at like 11:30 right before the show, Governor Palin was like, 'Oh, did Alice go home? Oh, because Bristol would have babysat!' She offered Bristol Palin to babysit Alice, which was so nice. And it was Bristol's birthday, too. I was like, 'Yeah, that's exactly what 17-year-old Bristol Palin wants to do at SNL, is babysit the toddler of the lady that goofs on her mom. Yeah, thanks a lot mom.' They were a nice family."
Click 'more' to read about Tina's "most chilling" moment of motherhood and to watch the video.
When host Conan O'Brien — himself dad to Neve, 5, and Beckett, 2 ½, with wife Liza Powell — asked how much television Alice is allowed to watch, Tina said she does make an effort to "really, really minimize it."
"And you can tell, because if you let them watch a little, they act like d-bags immediately when you turn it off. You turn it on, and you're like, 'Okay you can watch for 15 minutes.' And then you turn it off and they're like NOOOOO!"
Tina admits that she is guilty of "foolishly prioritizing quality over age-appropriateness" when it comes to Alice's television viewing habits, however. "I'll be like 'Don't watch Dora, you can watch The Simpsons!'…which is so totally inappropriate," she said. On another occasion, during a rainy day last summer, Tina had wanted Alice to watch Annie, joking that she "was trying to push her into show business." But when the picture of Kathy Bates on the cover of the DVD scared Alice off, Tina and husband Jeff Richmond switched on the television and together with their daughter, the family watched Psycho — "from front to back," Tina said.
"I turned it off before the shower scene, and I turned it off before the end where it gets really scary…and the rest of Psycho is really people walking around checking into motels. Nothing else happens. The only time I sort of wasn't paying attention was the part where he puts a big bundle in the back of a car and he sinks the car into the swamp. And all of a sudden I hear, 'Mommy, where's the lady?'"

"So in a really like stupid mom voice, I said 'I don't know, maybe the lady went home!' And she kept asking. I was like 'Maybe she's at the store!' She sat there for a long time, and then, she looked at me and said 'I think she's in the car. In the water.' It was the most chilling bit of parenting I've ever had."
Source: Late Night with Conan O'Brien