T.I. Opens Up About His Biggest Heartbreak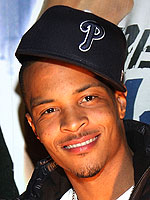 Bill McCay/WireImage
During a Tuesday appearance on The Tyra Banks Show, T.I. — whose real name is Clifford Harris — shared that the stillbirth of his daughter Llayah Amour in 2007 was one of the biggest heartbreaks of his life. "It's tough," the 28-year-old multi-platinum rapper admits. "God blessed me with the strength to move on." Much of that strength was derived from his remaining children, T.I. said, and it is those same children he will miss the most once he begins serving a one year prison sentence in 2009 for illegal weapons possession. Whether the reality of his upcoming, extended absence has truly registered with the kids remains to be seen, however.
"We had a conversation about it early on, of course, but until it actually happens they're not really gonna understand. It's gonna go in one end and out the other until that day comes."
T.I. is father to Messiah Ya'Majesty, 8, and Domani Uriah, 7, with ex-girlfriend Lashon Dixon, Deyjah Imani, 7, with another ex, and Clifford "King" Joseph III, 4, Major Philant, 5 months, and Llayah with fiancée Tameka 'Tiny' Cottle, who also has a daughter Zonnique, 12.
Source: The Tyra Banks Show