Sinéad O'Carroll on Her Postpartum Recovery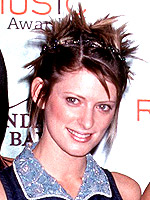 Brenda Chase/Getty
Former B*Witched singer and current TV presenter Sinéad O'Carroll considers motherhood to four-week-old daughter Samarah a "dream come true" and feels "like she's always been here, I just can't imagine my life without her." While Sinéad loves being a mom, she believed that after giving birth, she would be back to her normal self in no time. However, she learned differently. "I went into hospital at about 5 a.m. on Saturday and she was delivered at 10:48 p.m. that night in Mount Carmel hospital," shared the 35-year-old, adding that "she needed a little help in the end, I think it's because I have such a small frame but the staff there were just brilliant." After the birth Sinéad came to a new realization:
"Everyone focuses on the whole labor part of pregnancy but I found recovering afterwards quite hard. It's mad how it takes a while to feel normal again, you're completely exhausted and I just felt very uncomfortable."
Now that Sinéad is "getting [back to her old self] slowly," she is loving motherhood more and more. She shared that her little girl has "got a great pair of vocal cords on her, she can really scream her head off" but that "she's quiet enough though … she actually sleeps more in the nighttime than during the day which is great. She's a very content baby." While Samarah may have her mother's voice, she did inherit her looks from dad Michael Rahman.
"She's the image of Michael, she really is. I didn't get a look in."
Source: Herald