Willow Smith: 'I Want to be Like Mommy!'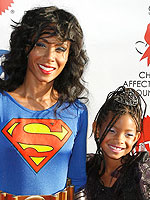 Gus Ruelas/AP
Working alongside your parents certainly comes with benefits, but as Willow Camille Reign Smith points out, the level of comfort between herself and her mom, Jada Pinkett Smith, in the studio caused for some fits of giggles as well! "Every time I would mess up, she would laugh and then I would laugh. Then she would stop and then I would stop," says Willow in an appearance on the Today show.
After completing Madagascar: Escape 2 Africa alongside her mom, almost 8-year-old Willow was looking forward to hitting the red carpet and strutting her stuff. Unfortunately, as the family arrived at the big event, Willow was a bit surprised with the carpet color laid out before her. "I had a good time because I thought it was going to be the red carpet, but it was a green carpet," explains Willow, who plays the voice of baby Gloria in the film. Taking her place in the entertainment business with a few films under her belt, Willow tells Meredith Vieira that when she's older, she's hoping to be just like Jada. "I want to be like Mommy," Willow told the anchor. Touched by her sweetness, Meredith jokes that she is yet to hear the same from her own kids as Jada replies that it comes along with the age.
"Look, I want to enjoy it now while she's 8, you know what I mean, because you never know when they turn 16!"
Briefly discussing their spread in the newest issue of Cookie, Jada reiterates that as the mother of a young daughter, her hope is to give Willow the confidence to succeed in society and to teach her the "importance of wholeness in being a woman." Jada says, "Just the idea that we are full of many emotions and living in a society that tells you that that's not a great thing. I really try to allow Willow to experience everything; when she's upset, she can go to her room and be upset. When she's sad I try to really…I want her to just be able to express herself. I just want her to feel emotionally grounded and whole."
The child of A-list actors, Jada and Will Smith, Willow admits that her parents' celebrity status can sometimes be a bit frustrating, although in the end, reveals she is always given the freedom of choice when it comes to her sense of fashion. "When [my parents] go somewhere and I have to get a fitting…My mom always says, when I don't want to wear something, 'Do what you want!'"
Source: Today
Click below to watch the video!