Coolio Lays Down the Law for Dating His Daughters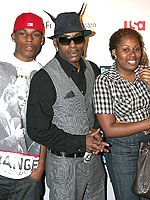 Nikki Nelson/WENN
Rapper Artis Leon Ivey Jr. — better known as Coolio — has already shared how he feels about handing out credit cards to his four children and now is laying down the law for any of his daughters' future suitors. While his girls — Artisha, 20, Brandi, 19, and Jackie, 15 — could understandably argue that their dad's rules seem to be a double-standard, Coolio says "I pay the bills, I make the rules" which means "it's do as I say, not as I do."
With that philosophy, the 45-year-old — who would be willing to "do the rest of my life in prison if you mess with my kids" — warns any young men to not have any expectations from his daughters. "I tell them don't come around here trying to get nothing you ain't getting at home. First of all, you ain't going to get it," says Coolio. However, the doting dad tries not to be too intimidating and will "get my pit bull and we walk around the block" while his daughters are spending time with their friend, but that doesn't mean that he doesn't keep his girls on their toes!
"I don't sit there and watch over them, but the other day, I walked in the living room, and Artisha was sitting on some dude's lap, I was like, 'Oh, hell no.' She just sat there, so I picked up one of the legs from the pool table and said, 'You better get up right now.' She was like, 'I'm 20-years-old!' I was like you better get yourself a 20-year-old house then!"
Artisha, Brandi, Jackie, and son Artis, 18, are Coolio's children with ex-wife Josefa Salinas. Coolio's new reality series — appropriately called Coolio's Rules — airs Tuesdays at 10 p.m. on the Oxygen network.
Source: OK!