Celine Dion: The Issue of Long Locks is Minimal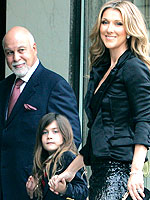 Thibault Camus/AP
In the end, it comes down to what kind of person he is, not the length of his hair, says Celine Dion. Not surprised that son René-Charles' long locks is often a topic of conversation, the singer shares that "many times" people have broached the subject of taking her boy for a hair cut. In an appearance on Oprah, Celine jokes that she has even encouraged her son to allow her to trim his hair "a little bit," as she exaggerates the length to the camera, but is always met with the same answer from René-Charles: "No Mom, I like my hair like that." Despite discussing the issue "many, many times," the 40-year-old singer believes that every family must decide what suits them best. "What's good for us might not be good for that family, and what's good for that family might not be good for us," explains Celine. With that philosophy in mind, Celine and her husband René Angélil have witnessed their son's strong character and believe that in the bigger picture, the issue of long hair is very minimal.
"When I see and feel my son and live with him every day, he's an amazing child. He's succeeding in school, he's such a generous person [and] adaptable. He's an amazing child, he's kind, he's a great human being."
Calling René-Charles — who likes others to know he is " 7 ½ and ¾" — her "miracle baby," Celine shares that although she "always keeps a window" of opportunity open, she is uncertain of whether or not her son will have siblings. After trying for six years to become pregnant the first time, the couple are optimistic about having another baby, but consider themselves already blessed. "If we're privileged again, we're going to give it a try after my tour. So hopefully we are parents again. If not, that's fine," says Celine.
Source: Oprah