Cameron Mathison Will Not Take Time Away From His Kids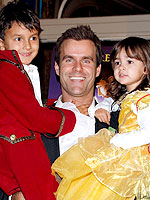 Jemal Countess/WireImage
No one can deny that Cameron Mathison is one of the busiest actors in daytime television. Not only is he one of the top stars on All My Children but he also hosts various reality television shows, appeared on Dancing With the Stars last season, and also pops in on Regis and Kelly and Extra at times. While he is constantly on the go, Cameron makes sure that "the only thing I like to cut out of my life is things for me" because he cherishes the time spent with his wife Vanessa and their kids Lucas Arthur, 5 ½, and Leila Emmanuelle, 2.
"I don't like to take time away from my kids. I take them to school and drop them off as much as I ever did. If I'm going to be crazy enough to take on all these jobs then I think I should be the only one to suffer for it."
Fans of Cameron, 39, can catch him at ABC's final Super Soap Weekend on November 15th and 16th at Walt Disney World.
Source: Fancast