Brooke Shields Has Mixed Feelings About Allowing Daughters to Act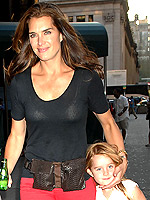 Demis Maryannakis/Splash News
As a child actor herself, Brooke Shields knows first hand that the entertainment business can often be a harsh place for a beginning actor, but can't help thinking her girls would be great on the big screen. Brooke admits that when it comes to her two daughters — Rowan Francis, 5, and Grier Hammond, 2 ½ — "there is a part of me — the stage mom part of me — that thinks they're genius" and would be successful in the industry. However, with that said, the Lipstick Jungle actress shares that "the other part of me hopes to God that they don't want to do it, because it's just too hard … it's based on rejection, so I hope they don't."
Having two daughters, Brooke has been open in the past about her desire to have more children — preferably a son — with husband, producer Chris Henchy. Still hopeful to add to their family, the couple "would adopt," with Brooke saying "it might be the next thing."
"There are a lot of babies out there in our immediate backyard that need families, so I'm starting to think about that."
Source: Extra