Marcia Cross Says Daughter is Like a 'Gushing Heart'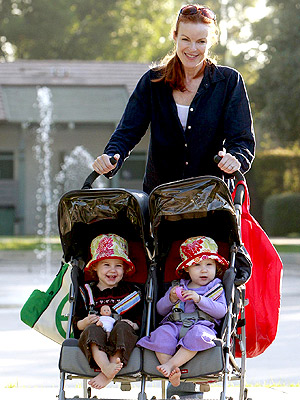 Flynet
The bond between twin sisters Eden and Savannah Mahoney, 20 months, remains strong and it was on full display as the girls recently prepared for a Halloween party. Proud mom Marcia Cross revealed during a Monday appearance on Live with Regis and Kelly that Savannah had decided to dress as a monkey, but when Eden became "too scared" of the ears on her kitty cat outfit, Savannah graciously offered up the monkey costume to her sister. Eden is quite empathetic, herself, Marcia said.
"Eden is like this gushing heart. She sees someone and (excitedly) says, 'Hi, hi, hi!' If Savannah is crying, she says, 'Crying, Savvy crying? It's okay Savvy.' It's just the sweetest thing ever."
After telling the story Marcia, 46, joked that she's "like one of those people with the brag book," adding "I'm so boring now." Eden and Savannah are her first children with husband of two years, Tom Mahoney.
Source: Live with Regis and Kelly
Click below to watch a video of Marcia's appearance!