Lee Ann Womack Says Girls Still Do Chores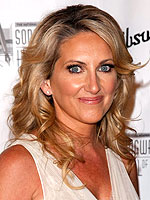 Jemal Countess/WireImage
Despite the luxuries afforded by fame, country singer Lee Ann Womack says that her daughters — Aubrie Lee, 17, and Anna Lise, 9 ½ — are unaccustomed to a life of privilege. The 42-year-old country singer says that the girls do chores each and every day. "Lord knows everyone has to learn how to clean a bathroom," Lee Ann jokes. "Even if it's to show their housekeeper how they want it done." Although both Aubrie and Anna appeared in the music video for Lee Ann's hit song "I Hope You Dance," and Aubrie sings harmony on the song "Call Me Crazy," their involvement in mom's music career has been kept to a minimum.
"I don't like for the girls to watch award shows when I'm on, and we don't listen to the CDs. We just don't live that way."
The act of balancing her public and private personae is "constantly a challenge," Lee Ann admits. "I find it a struggle to be the star I'm supposed to be — to dress like, act like, live like a star — but then be a normal mom."
Aubrie is Lee Ann's daughter with ex-husband Jason Sellers; Anna is her daughter with current husband Frank Liddell, whom she married in November 1999.
Source: Paste