Laila Ali Enjoys an 'Easy and Natural' Transition to Motherhood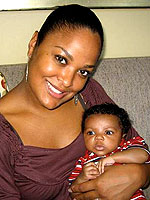 Credit Laila Ali
Calling the challenges associated with breastfeeding the "biggest surprise" of motherhood thus far, Laila Ali writes in a new blog that she has a new perspective on why some opt to wean. "When a woman decides to nurse her child, she practically becomes a 24-hour milk machine…Not to mention the soreness that comes along with it," Laila notes. "You better believe that I got a hold of a breast pump machine real quick so that my husband can help feed the baby at night and during the day!!!" Regardless, the 30-year-old former American Gladiators host says that she remains committed to nursing son Curtis 'C.J.' Muhammad, 9 weeks, for at least six months. Laila writes,
"There are so many health benefits for babies who are nursed and I can't imagine not taking advantage of the custom made supply that God gave me for my child."
Motherhood has been an "easy and natural" transition for Laila, who says that she is "so in love" with her son. "That is a good thing because he needs so much time and attention," she says. To that end, Laila is not working on any projects right now and is instead devoting "100%" of her time to C.J. "I am not a woman who easily parts with her baby," she writes. "I do not look forward to the day I have to separate from him or get some help from a sitter…In fact, I have anxiety about it!"
"I now know why some women quit their jobs and become stay at home moms!"
C.J. is the first child together for Laila and her husband, Curtis Conway, who also has three children from a previous marriage.
Click here for three new photos of CJ — one with dad, one with mom, and one showing off all that hair and a cute little grin!
Source: LailaAli.com