Harrison Ford and Liam Choose Costumes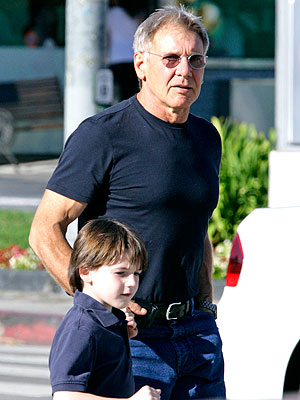 Bauer Griffin
Maybe he can be Indiana Jones? Harrison Ford takes 7 ½-year-old Liam Flockhart to Ursula's Costumes store in Brentwood, Calif. on Friday to choose a Halloween costume. Liam is the son of actress Calista Flockhart, whom Harrison has dated since 2002.
Although Harrison has not officially adopted Liam, he considers himself a parent to the boy, telling Reader's Digest,
"My youngest, other than Liam, is 17. It's a wonderful opportunity tobe part of a child's growing up, which is always an endless springtime.You see the blossoming and the growing and the nurturing and the payoff. Being a parent made me just a bit less self-centered.
Calista's a mother by choice — she adopted Liambefore we met, as a single parent, which is an awesome responsibilityto take. She's devoted herself to Liam and has done a really wonderfuljob raising him. I'm happy to now have a part of the job."