Charley is on Constant Baby Watch, Says Louise Redknapp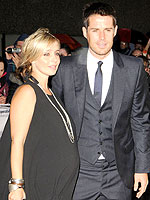 Pacific Coast News
In the eyes of a young child, the ability to grasp the concept of time is often lost, a lesson made especially difficult when that child is looking forward to meeting their new baby brother. These days, Louise Redknapp — who is expecting her second boy in November — finds that her choice of words to get Charley William excited for the big day are often meaningless to her 4-year-old son. "I keep saying to him, 'Only a few more weeks,' but a week seems like ages when you're four," says Louise. Although Charley is understandably confused with exactly how much longer he has to wait, he is certain that he will be there for the big day. Despite Louise and her husband Jamie's constant reassurance that he will be one of the first people to meet the new baby, Louise shares that when mother and son are separated, Charley is often left wondering if he has missed out on the big moment. "Earlier this month Jamie was playing golf in Scotland and I went up to watch. I spoke to Charley by phone and the first thing he asked was, 'You're not having the baby, are you?' If I'm not there, he thinks I'm off giving birth."
Fortunately for the couple, they are able to rely on the support of Louise's parents to pick Charley "up from school if I'm working and he stays over at least once a week." The quiet time alone has allowed the 33-year-old British model — who is more than ready to give birth — to catch up on some much needed sleep, a luxury that Louise could afford during her first pregnancy. "I must admit, I do want the baby out now. I've had nausea all the way through this pregnancy and with a four-year-old too, I can't just grab three hours sleep in the afternoon like I could when I was expecting Charley," shares Louise. In addition to spending time with Charley so her daughter can rest, Louise's mother also plans to join the family at the hospital on the big day in order to baby-sit for Charley. After all, as Louise admits, "That way, as soon as I come out of the theatre, he'll be there. I don't want him to think he's missed anything — we'd never hear the end of it!"
Click 'More' to read how the family is getting ready for their new baby boy.
As the family prepares for the upcoming holidays, Louise findscomfort in the fact that her in-laws will be coming to her house tovisit the new baby. In addition, with a "tiny baby," Louise realizesthat "because my mum and Jamie's mum are so great, I know I won't haveto lift a finger." Instead, Louise and Jamie will most likely be savingmost of their energy for the baby boy, who as of now, has his parentsthinking they have a future soccer player on their hands. "This baby'sbeen kicking like crazy. We've definitely got a lively one on ourhands," reveals Louise, who goes on to say that her "bump is reallylow."
While like most new moms Louise will have to find a way to shed thebaby weight that works for her body, her motivation may be a bitstronger than your average woman. Only nine weeks after giving birthLouise has scheduled a photoshoot and while she is aware that she willneed to be in shape for the pictures, she is hoping for a littlesympathy from the photographers. "I do wonder how I'm going to do it,but all you can do is eat healthily, listen to your body, and go withthe flow. And people will know I've just had a baby, so I'm surethey'll be a little bit forgiving." Although the upcoming post-babyphotoshoot remains in Louise's mind, the soon-to-be mom of two boys –who faced fertility struggles after battling endometriosis, but finallymanaged to conceive naturally — says that her main focus will still beher family. "Right now, our priority is our boys — holding our newbaby, knowing he's well, and seeing Charley's face when he finally getsto meet his new brother. I can't wait for that moment."
Source: Hello!; October 28th issue