Gavin Rossdale on Kingston's Halloween Costumes and Baby Zuma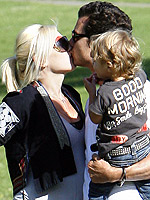 Pacific Coast News
He took home the 'Rock Rebirth of the Year' award, but Gavin Rossdale was more interested in talking about his two precious sons at US Weekly's Hot Hollywood Party on Tuesday night. The dad to 2-year-old Kingston James McGregor and 9-week-old Zuma Nesta Rock, says that fatherhood is fantastic (along with his career)! While the couple has no current plans to launch their own foundation to help those in need, Gavin has been playing some gigs for charity and let blogger Jared Eng of Just Jared in on his plans for Halloween and how his sons are getting along.
Gavin explained that wife Gwen Stefani is better with Halloween preparations as he is English and a little "too uptight to be good at that stuff." Saying that his ultimate costume would be a "doctor and nurse covered in blood," for now the couple are more focused on what Kingston will be dressed as.
"Kingston has like three outfits. He's got a rhino, a tiger and … an elephant, so he's got to choose between them. We keep rotating them. He's got style like his Mom."
As for the newest addition to the family, Gavin tells Jared he expects them to argue as siblings do, but for now, Kingston has the advantage.
"It's mainly a one-sided fight right now becauseZuma's pretty defenseless. But he's not a small baby, so I think thatKingston's got a couple years left and then he's gonna get in trouble."
Source: Just Jared