Rapper 50 Cent Granted Visitation Rights for Son Marquise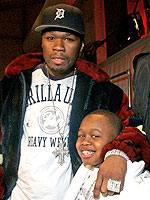 Elizabeth Lippman/Splash News
Applauding the couple for looking out for the well-being of their child, Judge David Freundlich announced in court yesterday that he was pleased Curtis Jackson — better known as 50 Cent — and Shaniqua Tompkins were able to come to an agreement regarding visitation rights for their 11-year-old son Marquise. "I thank you guys for your cooperation. It makes life very, very good for your child," noted Freundlich. The new arrangement allows 50 Cent to see his son one weekend every month and to share holidays and vacations with Shaniqua.
While 50 Cent's original request included him seeing Marquise two weekends a month, the rapper is satisfied with the arrangement and "happy it's actually done with." Equally so, Shaniqua is pleased with the visitation rights and "despite my feelings for Mr. Jackson," hopes to foster a healthy bond between father and son. Says Shaniqua,
"I want him to have a positive relationship with his dad. [Marquise] is going to get visitation on his terms when he wants to see his dad."
Source: newsday.com