Thandie Newton Says Girls Have More Fun With Dad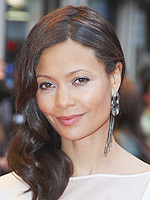 Chris Jackson/Getty
Shooting two films back-to-back — W, in theaters now, and RocknRolla, in wide release on Oct. 31 — has kept Thandie Newton busy, but the "condensed" schedule ultimately means she'll have more time to spend with daughters Ripley, 8, and Nico, 4. Although there was a time in her career Thandie would have likely brought the girls along on location, the 35-year-old actress says that those days are over. "Because Ripley is now at school, and she loves her school, she loves her friends, it's better for all of us if I just do my work for five days and then come back home," Thandie said during a recent appearance on The Rachael Ray Show. In any event Nico and Ripley — so-named after Sigourney Weaver's character in Alien, whom Thandie admired for being both tough and feminine at the same time — are in good hands.
"When my husband is with them when I'm away, they are eating pizza in bed until 10 at night. All of that stuff…it's lovely."
Ripley and Nico are Thandie's children with husband Ol Parker, whom she married in 1998.
Source: The Rachael Ray Show