Sam Hornish Jr. Races Into the Animated World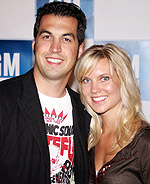 Mark Davis/Getty Images
Sam Hornish Jr. not only has a career racing cars in real life, but now he is doing it in the animated world too. The NASCAR driver has signed on to narrate the new children's animated series Roary the Racing Car after being invited by producers.
"They called me up, and obviously, I didn't know anything about it. It wasn't on TV here, so they gave me a website to go check it out. It's a good little show that teaches kids how to work together and have a positive attitude. It's a regular cartoon, but there's also a message behind it."
For those reasons and the fact that "we're role models for kids whether we want to be or not" were what led Sam to agree to the project. The 29-year-old admits that now he is father to six-month-old daughter Addison Faith, it "makes you think about being a role model, and I think it's great to teach kids a lot about working together … and it's also a racing show. All that made it very appealing to me." To help Sam while in the recording studio, he had a system to make things go smoothly that involved Addison.
"We did 54 episodes, and each one is 11 minutes so that there are, like, two a half-hour. The first three took me about three and a half hours to do, and the next 51 took about three hours, so once I learned how to do it, I put a picture of Addison … next to the script and pretended I was reading to her."
Addison is the first child for Sam and his wife Crystal.
Source: Niagara Falls Review