Priscilla Presley Says Son-In-Law is a 'Nervous' Dad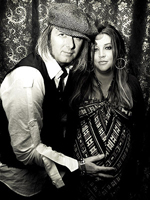 Joseph Llanes, courtesy Lisa Marie Presley
Life with newborn twins Harper and Finley, 2 weeks, is going well for Lisa Marie Presley and her husband Michael Lockwood, says proud grandmom Priscilla Presley; but life with a newborn — in general — has thrown Michael for a bit of a loop. "Mother is doing great," Priscila tells Entertainment Tonight. "Father's a little nervous."
"He's a first-time dad, so it is the most beautiful thing to watch the way he holds and carries the babies. It's so endearing to watch how delicate he is with the babies."
Becoming a grandmom to the twins is something Priscila describes as "a dream come true" and "a real delight." She adds,
"Entering into the room and seeing these two babies…it's been pretty terrific."
Harper and Finley join siblings Danielle Riley, 19, and Benjamin Storm, 16 this month, from Lisa Marie's marriage to Danny Keough.
Source: Entertainment Tonight