Melissa Joan Hart Schools Caroline Rhea on Parenthood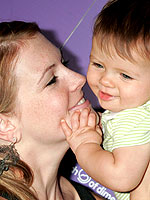 David Livingston/Getty
Melissa Joan Hart and Caroline Rhea are no strangers to one another — the pair starred on the television show Sabrina, The Teenage Witch together for years. While many may believe that Caroline, 44, who portrayed Melissa's aunt, would be the bossy one, it is just the opposite when it comes to the topic of parenthood. Caroline, who is expecting her first child — a daughter — any day now with boyfriend Costaki Economopoulos, told OK! at a Project A.L.S. event in New York City that Melissa "literally said, 'I cannot wait to boss you about this baby.'"
"She's so bossy … I'm like, 'Yeah, I'm new.' It is ironic that she's younger than me."
Melissa, 32, does have a leg up on her former costar in that aspect, as she is already mother to sons Mason Walter, 2 ½, and Braydon 'Brady' Hart, 7 months, with husband Mark Wilkerson.
Source: OK! Magazine
Did you take advice from friends who entered parenthood first? Or did you tune them out?