Gillian Anderson Welcomes Son Felix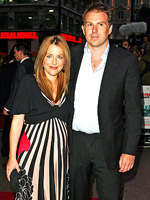 Big Picture/Bauer Griffin
Gillian Anderson has welcomed her third child, a baby boy. Felix Griffiths arrived on Wednesday, October 15th in London, weighing in at 6 lbs., 15 oz. This is Gillian's second son with Mark Griffiths; additionally, the pair are parents to son Oscar, 23 months, while the actress also has daughter Piper Maru, 14, from a previous marriage. While readers may be familar with Oscar and Felix from The Odd Couple, Gillian's rep says that wasn't her intent.
"She's never even seen the show. She had no idea. I brought it up to her, and it really doesn't sink in."
Gillian, 40, announced the pregnancy in June, sharing the due date and sex of the baby in July.
Source: PEOPLE