You Said It: Five Great Comments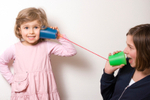 istockphoto.com/wojciech_gajda
CBB was once again buzzing with commentary this week, on everythingfrom young moms and kid's clothes to blended families and co-sleeping. You all had a lot to say, and we lovedreading every word! Here's a look at five great comments from the past week:
Posted by lanna'smom on Jessica Simpson: I'd Love Six Kids:
Maybe she wants to be a younger mom, and what's wrong with that? I hadalways planned to have a child in my early 20's and that's what I did.I love being a young mom and wouldn't change anything. There are manyadvantages, and unlike some other posters, I wasn't about to wait forthe "perfect" time b/c there is no such thing. It will be life-changingand hard no matter when you do it. There isn't some magical age whenyou are prepared, believe me!
Posted by MB on Sound Off! When Should Kids Be Able to Dress Themselves?:
I think it depends on the occasion. If we're going out to the grocerystore and my daughter wants to wear a tutu, what does it hurt? If it'sschool or church, I don't think that should be an option. I wouldinstead offer several possible outfits and let my child choose one ofthose to wear. This allows each of us a measure of control. Kids shouldbe allowed to be kids for as long as possible, and I think mismatchedclothes is a part of that. But, I still understand the need for them tolook more tidy on certain occasions. I don't have a child at toddlerage yet, but this is my plan based on observations and on the commentsI've read from other moms here, over the past while.
Click "More" for three additional comments.
Posted by Lilybett on Reese Witherspoon on Celebrating Holidays with a Blended Family:
Depending on when divorce happens, it's not always such a big dealfor the kids to have to split their time during the holidays. I'm achild of an incredibly blended family and often had multipleChristmases. It just seemed normal… in fact, it feels weird to me notto be on the highway in a stinking hot car on Christmas day.
Now that we are adults we have a staggered Christmas season thatstarts in mid December when my Mum and stepfather get all seven oftheir kids together plus grandkids (Mum decided long ago she didn'twant to compete for Christmas day itself). Then there's usually apre-Christmas visit to one set of my in-laws, then a Christmas eve/daycelebration with my Dad and Stepmother. Then there's usually a BoxingDay thing with my other in-laws. It can get expensive in terms of presents and travel, etc but westarted a policy of just buying for the grandchildren (and all childrenunder 18) and then we get assigned one adult to buy a present for.
I hope Reese and Ryan make it work for their kids too.
Posted by Heather on Jamie Lynn Spears 'Blessed' With a New, Better Life:
Way to go Jamie Lynn. While she didn't plan to be a teen mom, she issetting an example that she can still be a great mom and that she knowswhat is best for her daughter. As for the co-sleeping, there are manybenefits to it. It's actually been proven, especially with breastfeedingmothers (which she is from what I've read), that it is very safe toshare the family bed. It's called SAFE co-sleeping. Everything you hearabout babies dying from SIDS, most of that are babies in their crib,where you can't hear them/feel them being in another room. Here is an article on safe co-sleeping for anybody that is interested:
http://www.drjaygordon.com/development/ap/cosleeping.asp
Posted by SiouXin on Ryder Robinson Steps Out With 'Glam-ma' Goldie:
Hilarious! My grandmother tried to make us call her that too, but wecouldn't pronounce it. It kept coming out as Gam-Ma, so we call herG.G. which stands for Glamour Goddess. I thought we were the only oneswith a grandmother who does that. =)
Send us your favorite comments at CBBTips@gmail.com.