Lisa Bonet Confirms Pregnancy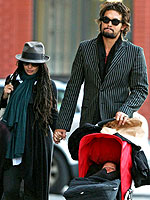 Flynet
Although it's been obvious to CBB readers for quite some time, Life On Mars star Lisa Bonet has confirmed that she is expecting her third child. "I'm seven months and I feel great," shares Lisa, 40. "I've had a tremendous amount of energy, which is lucky, because I have a 14-month-old." She and boyfriend Jason Momoa will be keeping the sex of the baby a delivery surprise, as they did with daughter Lola Iolani last year. Lisa explains,
"When my friends ask me, I say, 'I really don't know.' I love the mystery and I trust the mystery about it. It adds a whole other component at the end."
Arriving in December, the new baby will join Lola as well as Zoë Isabella, 19, Lisa's daughter with rocker Lenny Kravitz.
Source: PEOPLE