Brad and Kimberly Williams-Paisley Expecting Second Child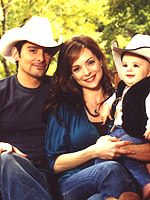 Kurt Markus for PEOPLE for use on CBB
Country star Brad Paisley and According to Jim actress Kimberly Williams-Paisley are expanding their family, the couple confirms to PEOPLE exclusively. Their second child is due in April, making 19-month-old son William 'Huck' Huckleberry a big brother, Kim, 37, shares with the magazine.
"We're having so much fun with our little boy Huck and we are thrilled that he will have a sibling. He's going to be a great brother."
Currently in Los Angeles wrapping up filming on her show, Kimberly will soon return to Nashville, where the family makes their home. Brad, 35, is set to host the 42nd annual Country Music Association Awards with Carrie Underwood in Nashville on November 12th.
Source: PEOPLE