Rapper T.I. Wants Children Raised Together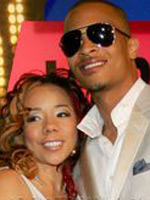 Ethan Miller/Getty Images
Rapper T.I., whose real name is Clifford Harris, may already be father to six kids, but that doesn't mean he wouldn't be happy if more children came along. On the topic of expanding the family, the 28-year-old shared with CNN that, "I'll have as many as the Lord blesses me with … as long as I have enough money to take care of them." Also, although T.I.'s children are by different mothers, he wants them to be raised alongside one another.
"I don't ever want to have kids who don't know their brothers and sisters. I want them all to grow up together, knowing each other, living together."
T.I. is father to Messiah Ya'Majesty, 8, and Domani Uriah, 7, with ex-girlfriend Lashon Dixon, Deyjah Imani with another ex, and Clifford "King" Joseph III, 4, Major Philant, 4 ½ months, and the late Llayah Amour with fiancée Tameka 'Tiny' Cottle.
Source: CNN