Siblings Have Mixed Reactions to New Baby, Mark Wahlberg Says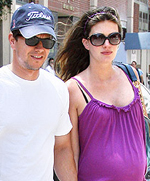 LK/Flynet
All the fun and games in the world haven't been enough to sell Mark Wahlberg's son on being a big brother. During a Monday appearance on The Ellen DeGeneres Show, the 37-year-old actor said that 2 ½-year-old Michael has still not warmed to 4-week-old Brendan Joseph, Mark's third child with fiancée Rhea Durham. "I've been taking him to the zoo, taking him to Fofo Figley's, all these different play places," Mark explained with a sigh. "He's getting plenty of perks…it's just taking him a while to adjust." The couple's daughter, 5-year-old Ella Rae, has had an entirely different reaction to the newest addition to the family, however.
"She's thrilled. She now has a live American Girl doll baby. I keep telling her that the baby is fragile, you have to be a bit more gentle…She wants to run around with the baby by one hand."
While Mark and Rhea did their best to prepare Michael for Brendan's arrival, Mark admits that all their groundwork went out the window once their elder son realized he was "not the baby anymore." Whereas beforehand Michael tended to be "clingy" with his dad, now "he just wants Mommy, because Mommy is focused on the baby," Mark said. During those times when he is out and about with his older two children — giving Rhea a well-deserved break — Mark said the trio can often be found listening to The Chipmunks. "They rap now, so my daughter's starting to rap in the car," he revealed. That his children remain blissfully unaware of his own brief career as a rapper is something that Mark said he has no intention of undoing.
"They would not be impressed, and they will not be hearing it anytime soon. Between the music stuff, the underwear stuff and Boogie Nights, I have a lot of explaining to do."
Mark's new film Max Payne hits theaters October 17th.
Source: The Ellen DeGeneres Show