Marcia Cross Says 'Struggle Was All Worth It'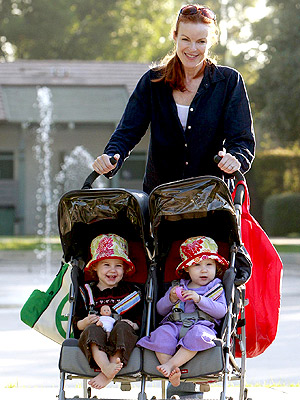 Flynet
For Marcia Cross, happiness came later in life — and in bunches. Within months of meeting stockbroker Tom Mahoney the two were married in 2006, and less than one year later the couple welcomed twin daughters Eden and Savannah, now 19 months. "Everything I'd wanted so much for so long seemed to happen all at once," the 46-year-old actress tells the October issue of Psychologies magazine. "[I] had got to the point where I seriously wondered if it would ever happen."
Marcia admits that being so happy as a wife and mother does at times scare her, because she's now acutely aware of how much she has to lose. "What if something happened to one of my girls?" she asks. "The thought is so terrifying I can't even finish it." The years she spent alone make her appreciate Tom and the girls even more, however, she says.
"Honestly, looking back, I think I was meant to go through it. All the time I spent hiking alone and thinking, or going to yoga or going to therapy, or reading books, and wanting what I wanted so much, I think the struggle was all worth it."
The fifth season of Marcia's hit show Desperate Housewives is currently airing on ABC.
Source: Psychologies