Darius Rucker Makes Fatherhood the Priority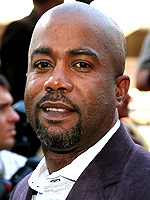 Frazer Harrison/Getty for ACMA
Times have changed for Darius Rucker, in more ways than one! The 42-year-old former frontman for the rock band Hootie and the Blowfish has switched over to country music with his new album Learn To Live, and has embraced a slower lifestyle in the process. Now that he's a dad, Darius says that his days of non-stop partying are over. "'I want to coach my little kids' football team and go to dance recitals," Darius says. "Seriously, that's what I want to do."
"There was a time I wanted to be on the road all the time, being a rock star. I have different priorities in life."
One of the things Darius says he loves the most about the new genre is the storytelling element to country music, and as a dad, he has many stories to tell. The track 'It Won't Be Like This for Long' was written with his two daughters — ages 13 and 7 — in mind, and Darius says he's in the process of getting his youngest child guitar lessons. "My kids have to play an instrument," he says with a laugh. "But trust me, I'm not going to teach my kids how to be a guitar player…I'm going to let someone else teach them."
Source: Toledo Blade