You Said It: Five Great Comments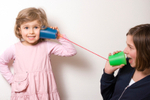 istockphoto.com/wojciech_gajda
CBB was once again buzzing with commentary this week, on everythingfrom new siblings and baby names to traveling with kids and adoption. You all had a lot to say, and we lovedreading every word! Here's a look at five great comments from the past week:
Posted by Kelly on Mark Wahlberg: Son Michael is Frustrated with New Baby:
We just told my 4 year old son, that we're expecting, and he asked ifwe can send it back if it's a girl…boys only! The funny part is thatwe're hoping for a girl. I guess one of us will be very excited!
Posted by Cezzie on Sound Off! Did You Reveal Your Baby Name Before Birth?:
I don't have children but my partner and I have decided to waituntil future babies are born before we decide on a name – let alonetell other people our ideas. When my mother was pregnant with my brother, she told everyone sheloved the name "Jack" and that was going to be his name. Unfortunatelyit only took one person to wrinkle their face and shoot "Jack!?!?!?" ina horrid way to make my mum change her mind. My brother was aroundweeks before he had a name :-S
Click "More" for three additional comments.
Posted by amandamay on Jodie Sweetin: Never Underestimate the Power of a Crying Baby!:
I used to travel by myself with my infant son between England and Seattleonce a month — 12 hours on a plane (more if you include layovers andtravel to and from airports/waiting for flights). I know how hard thatis!! I still fly all the time with my son (now 6) by myself and I canhonestly say it DOES get easier. Overnight flights are the way to go 🙂
Posted by Megan on For Mary-Louise Parker, Adoption Was a Childhood Dream Come True:
We adopted our son from Ethiopia last year. It was most definitely aneye opening experience! Also, very easy to do for a young couple juststarting out and on one salary, so it's not like only movie stars havethis option! Our next child will likely be through domestic adoptiongiven the rising wait times for international adoptions, but I feelalmost guilty that we aren't going back to Ethiopia for a sibling.There was so much poverty, so many kids (and adults) in need, it wasjust shocking! I'm still processing it all almost a year later, I stilllook through our trip pictures and think "people really live like that?Our son lived like that?" It really drives home how lucky we are overhere.
Posted by Cordelia's Mommy on Beware the American Girl Franchise, Jokes Greg Kinnear:
OMG is he right about American Girl! My daughter turned 5 in July. Itstarted 2 years ago for us, with a trip to the American Girl store inLos Angeles at The Grove. Then she got one of the Bitty Baby dolls, andvarious outfits and things to go with it. And, we ate in the cafe,where they also have seats for your dolls.
Back in April we gotElizabeth, and last month we got her best friend Felicity. We haveseveral of the chapter books, additional outfits, and additionalaccessories, and we aren't nearly done completing the collection forjust those two dolls. luckily she seems to want to work on that beforebranching out to other historical dolls. oh, and the other thing aboutAG is the matching outfits for girls and their dolls. She loves that! Note for other moms: sometimes Marshall's has very pretty dresses thatcome with matching dresses for 18" dolls (not AG brand) and they are$12.99-16.99, much better than AG prices!
Send us your favorite comments at CBBTips@gmail.com.