Mark Wahlberg Already Talking More Babies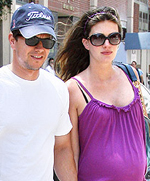 LK/Flynet
Although he welcomed son Brendan Joseph just 3 ½ weeks ago, Mark Wahlberg says that if it is up to him, his family with partner Rhea Durham will only continue to grow. In a new interview with Extra, Mark, 37, notes that as the youngest of nine children, he'd like to have "as many [kids] as mommy can handle." Given Mark's role in the equation, however, he admits that he has the luxury of advocating a 'bigger is better' approach to family planning.
"It's obviously a lot easier for me. i just have to show up and be her support system."
Mark and Rhea are also parents to Ella Rae, 5, and Michael, 2 ½. Mark's new movie Max Payne is in theaters October 17th.
Source: Extra