Angela Bassett Says Twins 'Are Wonderful'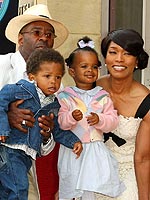 Noel Vasquez
Although they are known for testing their limits, toddlers also have a way of knowing when their parents have reached their own. During a Thursday appearance on The View, Angela Bassett said that her 2 ½-year-old twins Slater Josiah and Bronwyn Golden "are wonderful," and that her son — in particular — is in tune with his mom's moods.
"When I get all keyed up, Slater says, 'Don't worry about it mom, it's going to be alright. I'm your baby cakes.'"
The twins are the first children for Angela, 50, and husband Courtney B. Vance, who have been married since 1997. Angela can currently be seen on the 15th and final season of ER.
Source: The View