Sarah McLachlan Wants Her Daughters to be Strong Women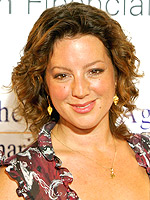 Ethan Miller/Getty
Mothers want great things for their daughters and that is no different for singer Sarah McLachlan. The Lilith Fair founder says she feels "lucky" that her daughters India Ann Sushil, 6, and Taja Summer, 15 months, are "both really strong, feisty girls. They don't take s–t from anybody," attributes which Sarah sees as positive because "they're gonna need that" as they grow into women. To help make sure that her girls turn into amazing women, Sarah has a few things that she'd like for them to learn.
"I hope to teach them compassion and understanding, and to have a really strong sense f themselves for themselves in the world around them. And to be kind and treat everyone equally."
While trying to teach her daughters those lessons, she is learning a few herself. Sarah admits that "I'm impatient" and it wears thin when "the 6-year-old's like, "I want, I want, I want." There's thisgreat expectation that everything should just be handed to you — itdrives me crazy. I'm working on being a little more patient with thatone."
India and Taja's father is Sarah's estranged husband Ashwin Sood.
Source: AOL Music