Emma Bunton Self-Conscious on Spice Girls Stage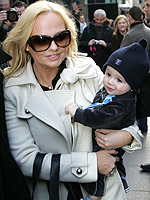 Flynet
Taking the stage and performing in front of thousands of people can be a bit intimidating to say the least, but as a new mom who has just given birth, the task can seem downright terrifying. Three months after welcoming her first child, Beau Lee, now 13 months, with boyfriend Jade Jones, singer Emma Bunton — who calls the decision "complete madness" — kicked off her world reunion tour with the Spice Girls. Admitting to feeling self-conscious as she struggled to shed the baby weight all while managing rehearsals, shows, and taking care of her son, Emma shares that what she needed most was "someone to come and give me an extra push." While on tour, the 32-year-old singer maintained a positive attitude, telling "myself that everyone I knew had just had a baby. No one was expecting me to be in perfect shape."
Finally wrapping up the tour, Emma hired a personal trainer and hit the gym "two to three times a week" while also spending time on the treadmill. A year later, her efforts have paid off as Emma is back in shape despite having to occasionally battle her sweet tooth! "I've got a really sweet tooth so after a healthy dinner I might have a little bit of dessert," says Emma who goes on to say that while she is careful about what she eats, she's not "too precious about it." As for fellow Spice Girls Melanie 'Mel C' Chisholm, Emma says that her friend will make a great mother.
"She'll be the most amazing mother. She's an absolute natural with children."
Source: Daily Mail