Ellie Bellie Kids Mini-Messenger Bag: Gets the Goods to Grandma's House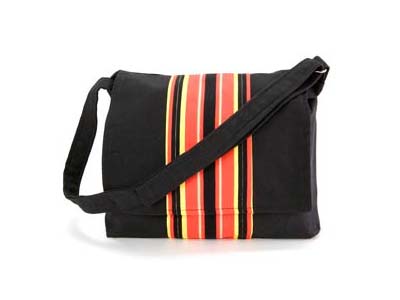 Ellie Bellie Kids Mini-Messenger Bag in Jet
A three-year-old with an Ellie Bellie Kids Mini-Messenger Bag ($35) slung across his skinny body is just about the most adorable sight in the world. And it's a sight that's only made cuter when you know what's inside that bag — three trains, some wooden track, two marbles, a tiny plastic triceratops, and a squishy spider that lights up when you squeeze it. Important things to pack when you're walking to Grandma's and Grandpa's house, no?
My son has loved his new Jet Mini-Messenger Bag since he started using it. Both my son and I have both been enjoying the independence it seems to have fostered in him. Now, when we pack up to go somewhere, he's got the option of packing his own bag and carrying it, too. Whether he packs a juice box and crackers or hamburger buns on the way home from the grocery store (yes, sometimes he insists on carrying odd things home from the store), he can hold whatever he likes. And each thing he packs is one less item for me to carry!
The bag is beautifully designed and constructed. Not only is it super-stylish, but it's also extremely practical. Made entirely of cotton (no vinyl or PVC to contend with here!) with oversized Velcro closures, the Mini-Messenger is so easy for my son to use on his own. It's got two compartments so he can sort his items — you know, wouldn't want to mix the dinosaur with the spider! And it's simple for him to throw over his shoulder without help and walk out the door.
Designed for children ages three and up, the bag also has a fully-adjustable strap, so it will fit a child for many years. Good thing, too. Otherwise, who would carry home my groceries?
CBB Deal: Save 20% on non-sale items when you use coupon code CBB. Expires November 10, 2008.
— Stephanie