Diane Lane 'Really Happy' with Her Blended Family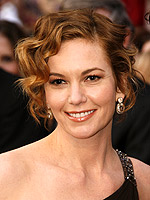 Dan MacMedan/WireImage
Diane Lane knows what it's like to be a single mother. When her daughter Eleanor Jasmine was a toddler, the actress and her first husband Christophe Lambert divorced because Diane feels it "better to be friends and be functional than a married couple and [dysfunctional]." Even though Christopher is involved in his now 15-year-old daughter's life, Diane admits that before she remarried, she felt that life as a single mom "was like having a croquet mallet in one hand, a tennis racket in the other, a baseball bat in the other, and some fins on my feet." Now that she's wed to actor Josh Brolin, she cares for his children — Trevor, 20, and Eden, 15 with his ex-wife Alice Adair — as well. Life is pretty busy the actress says, but it's okay because she's "really happy" with her life.
Diane isn't the only one enjoying the benefits of a blended family — Eleanor is too, but for a different reason than mom! Diane, 43, confides that her daughter loves visiting with stepgrandparents James Brolin and Barbra Streisand. Not only does Barbra makes a gourmet spread for the family during the holidays, she's also a "mensch" and even "comes to the kids' plays!"
Diane's latest film, Nights in Rodanthe, is currently in theaters.
Source: The Daily Telegraph