Derk Cheetwood Not Looking Forward to Daughter's Dating Years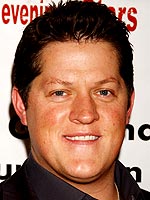 Roger Karnbad/Celebrity Photo
General Hospital's Derk Cheetwood is already worried about the boys his eight-month-old daughter Kylie Danielle will bring home when she is older. In fact, he and his fellow cast members Steve Burton and Maurice Benard "have talked about it because we all have little girls" and "the thought of who we were when we were 16 and 17, we're definitely worried." Even though he is concerned about the dating years, the 35-year-old is not going to let his little girl pull any tricks on him like sneaking out.
"As far as getting mischievous, we've done it all. I did everything in the book, and then I wrote some stuff."
Derk was happy to take some parenting advice from Steve and Maurice, but is going to fall back on how his parents raised him and his brother, actor Drew Cheetwood. "My parents gave me a long leash as long as I didn't abuse it," shared Derk, adding "That's what I want to instill with my little girl."
Kylie is the first child for Derk and his wife Cari Costner. Cari is the niece of actor Kevin Costner.
Source: ABC Soaps in Depth, October 20th issue